The battle with Dilandau is over...
but its terrible aftermath is just beginning. Allen and Millerna have miraculously escaped from their ordeal in Mr. T's van unscathed. Unfortunately, the same cannot be said for the van itself, or for the young boy-king who came running to their rescue...
Mr. T walks over to where Hitomi and the others are sitting with the wreckage of Escaflowne lying behind them and with the body of Van lying limp in their arms...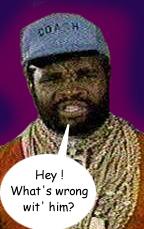 Allen tells Mr. T about the blood pact Van has made with Escaflowne, the Protector-god, and of how the fates of both of them are interlinked...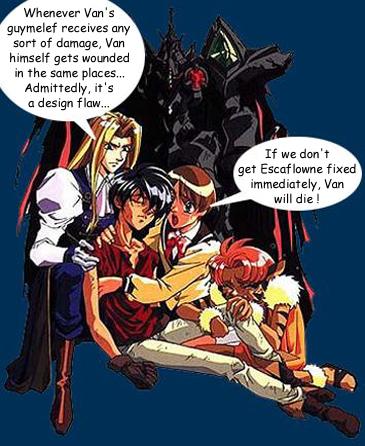 "Hm", muses Allen, "I wonder if Dryden can help Van..."
Dryden Fassa, the noble merchant and world-renown scholar. Surely he knew a great deal about Escaflowne and its origins. Hitomi and the others are quick to find this erudite young man and request his assistance in this desperate matter...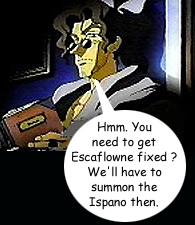 After a brief examination of Van's damaged guymelef, Dryden finds a switch and turns it. Within seconds, a dimensional gateway opens, and there appears in the sky a bizarre-looking ship piloted by an even more bizarre looking crew.... It is the Ispano, the ancient tribe of Master Builders who had originally constructed Escaflowne many years ago. It is they alone who have the equipment and skill which can repair it.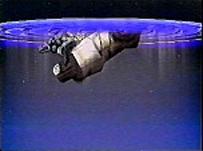 Unfortunately, their services don't come cheap...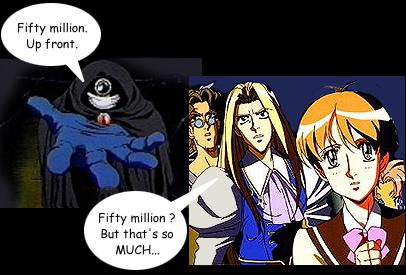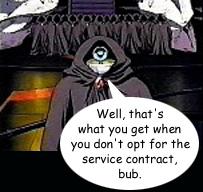 "Service contract?" huffs Allen, "Since when did Van ever get a chance to opt for the service contract? This guymelef has been passed down through the Fanelian Royal Family for generations...."
The Ispano leader shakes his head. "Not our concern. Fifty million. If you can't pay, we'll leave..." Hitomi and her friends look at one another. There's only one man among them who has that kind of money... All eyes turn to Dryden the Financial Wizard with the Hippie Hairstyle...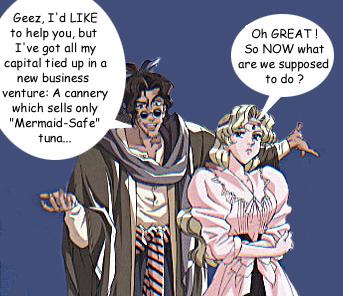 A commotion from the far end of the room now gets everyone's attention...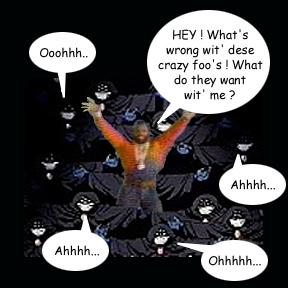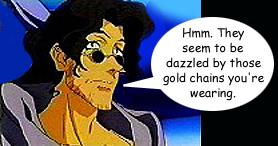 Indeed they are. The Ispano Leader walks up to the T...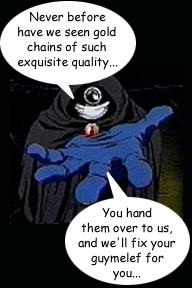 A not so generous offer. The T is quick to make his reply...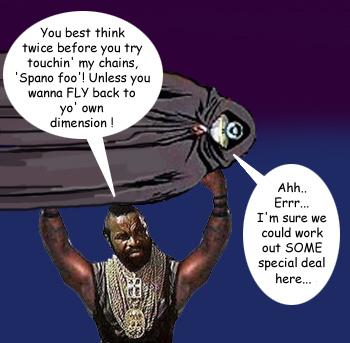 Now you're talkin'! NEXT page, sucka!