The defeat of his faithful and most beloved servants comes as a shattering blow to Master Folken...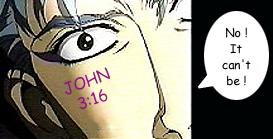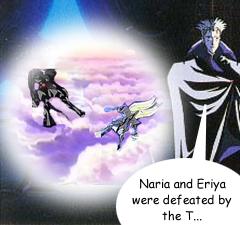 "Indeed", mutters Lord Dorn-quirk, "The T is a near invincible enemy... Surely some mysterious force must be enhancing his Fate...". The old man thinks a while...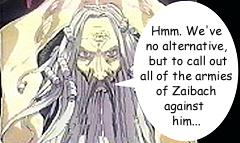 As he speaks these words, Hitomi is seized by a wave of dread and apprehension...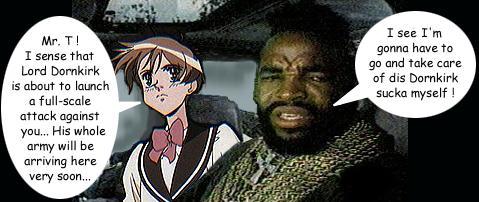 And thus, the stage for the Final Battle has been set. It isn't long before the bulk of Zaibach's forces are sweeping over the kingdom of Asturia. Their mission: Eliminate Mr. T... Van and Allen don their guymelefs and rush onto the field of battle to help repel Dornkirk's onslaught of men and machinery...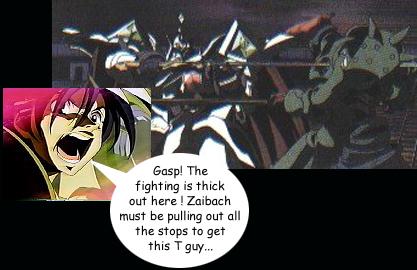 Van is concerned about how Escaflowne will fare in this battle... But as long as he had his trusty chorus of spirited monks by his side, he knew he'd have the courage and strength to persevere no matter what Fate threw in his way...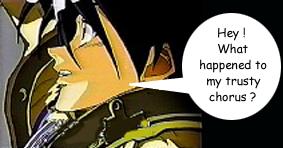 The soundtrack is now strangely silent... Escaflowne's chorus is nowhere to be heard... Van shifts uncomfortably in his seat. Where could they have gone?
Meanwhile, not far away, Mr. T is rolling his 1982 custom van-melef across the battlefield at top speed. He's headed straight for Dornkirk's Fortress in the very heart of the Zaibach Empire. As he drives along, he suddenly hears: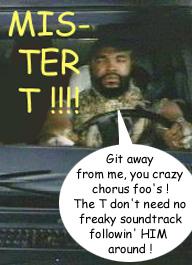 The battle begins to grow more intense...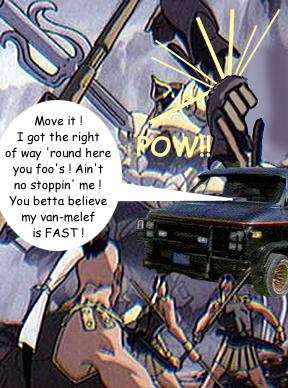 Nothing was going to stop the T in his mission. Nothing he could forsee anyway...

Next page, foo'!