Part One
Planet Gaea...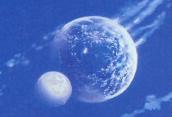 A mysterious world where the Earth and the moon are both visible in the same sky. A world about to be rent asunder by war and chaos. A world whose only hope for peace lies with a young girl, gifted with psychic powers. Said girl is Hitomi Kanzaki, a visitor from Earth (a planet which the Gaeans themselves have nicknamed, "The Phantom Moon")...
Our story opens with Hitomi and the young king, Van of Fanelia, sharing a tender moment...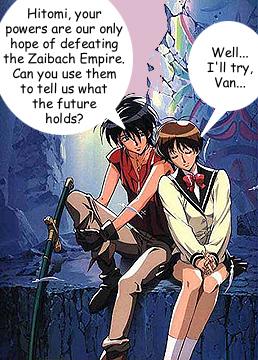 She breaks out her grandmother's pendant, and with her friends gathered all around her, she begins to dowse, scanning the future for any information which may be of use to them...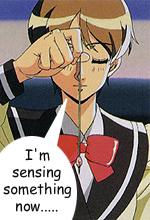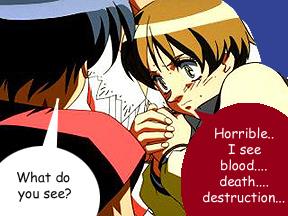 Catgirl Merle shakes her head...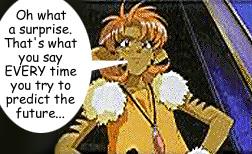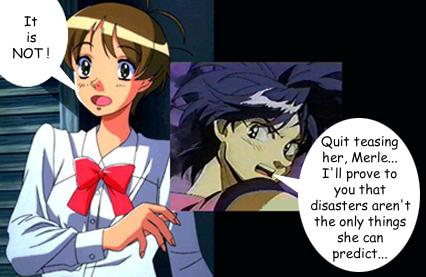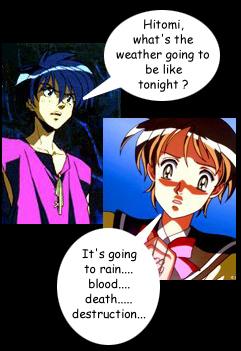 Allen Schezar, Heavenly Knight of Asturia, (and Van's main rival for Hitomi's affections) now steps forward...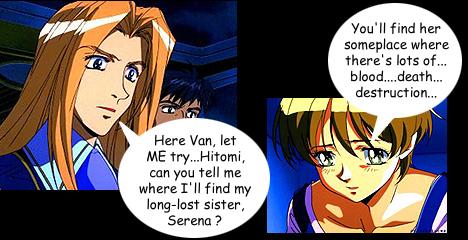 Princess Millerna seeing the distress Hitomi is in, tries to help as best she can...
"Oh my," replies the princess, dolefully. Her fiance, the noble merchant and master of finance, Dryden Fassa, stands by silently scratching his unshaven chin. He then decides it's HIS turn to put the precognitive powers of the Girl from the Phantom Moon to the test...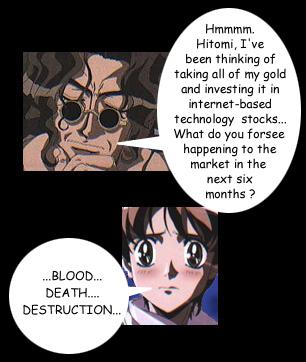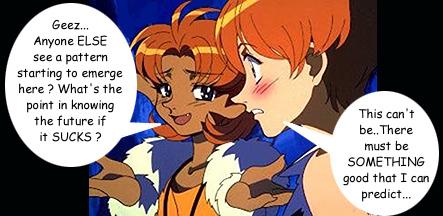 "So...Stocks are definitely right out.." Dryden sighs as he starts to scribble on a notepad, "Hmm...Maybe I should dabble in a little real estate instead.....Tell me, Hitomi.... What do you foresee happening to the housing market in the next........ah....on second thought...never mind..."
Hitomi looks about her at the faces of her friends. "Well?" she inquires, "Anyone else want to know anything more about the future?"
The stirring strains of the Warsaw Philharmonic Orchestra are replaced on the soundtrack by the sound of chirping crickets.
Hitomi sighs and lowers her head. "Maybe I am nothing but a jinx after all....."
Could her problems get any worse?...

Click here to find out, foo' !