Diary Of A B-17 Ball Turret Gunner
WWII USAAF Europe
"We Were Never Turned Back Due To Enemy Action"

"I've Seen More In A Few Seconds Than Most Men Will See In Their Lifetime"
John J. Briol 1922-1972
---
Memorial Day 1945
The Emotional Impact Of Combat Is Honestly Portrayed In A Diary My Father, John J. Briol (Pictured With My Mother, Marcella) Wrote While Flying On B-17s During WWII. He Was A Ball Turret Gunner Of The 457th Bomb Group, 748th Squadron At Glatton Air Field, England. The Pilot's Log, Along With Comments From The Co-Pilot And Toggalier (Bomb Release Switch Operator) Are Included. We Were Fortunate To Have As Editor And Publisher, John F. Welch, Col. USAF Ret. Colonel Welch Flew Combat Missions In WWII, Staying With The Air Force Through The Vietnam War, Where He Earned The Distinguished Flying Cross. "Dead Engine Kids," The Book's Title And Name Of The Crew's Plane, Can Be Purchased Online From The Amazon.Com Web Site. If You Have Any Questions, Please E-Mail Me Below.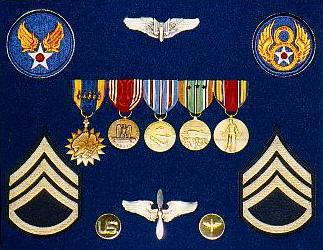 "Statistically, The Most Dangerous Place To Be In WWII, Was In A Bomber Over Germany"
From "Bombers Of World War II" By Jeffrey L. Ethell
Excerpts From John J. Briol's Diary:
Sept. 12, 1944:Our Target Was The Synthetic Oil Refinery At Ruhland. We Had To Pass Near Berlin On The Way. Then It Happened So Quick You Couldn't Think. We Heard The Report "Bandits". The Nazi Fighters Came Barreling Through Our Formations Before You Could Wink An Eyelash. I Watched Terrified As Three Of Our Fortresses Went Down In Flames With Their Bomb Loads And Our Buddies In Them. I Saw Five Men Get Out Of One Of Them. The Rest Were Lost. One Of Them Kept Falling, I Never Did See His Chute Open. We Had One Engine Gone But We Kept Up with The Formation To The Target And Left It In Flames. It Wasn't Long And Another Engine Quit. Coming Back From A Mission And Seeing The Shore Of England Is The Sweetest Thing In The World...Entire Entry
Sept. 28, 1944:Today, As The British Would Say, "We Had It". Again, We Were The Only Ship Of Our Element Of Three To Return Alive. We Bombed The Krupp Works Of Magdeburg. Waves Of Twenty Enemy Fighters Attacked Our Box Of Twelve Ships. There Seemed To Be Hundreds Of Them. They Went Around In Back Of Us To 7 O'Clock. I Got My Sight On The Nearest One And Blasted Away At Him. I Saw Fire And Smoke Starting To Come Out The Right Side Of His Engine. I Could See The Dead Pilot. His Oxygen Mask Was Torn Off. The Whole Ship Was Vibrating From Everyone Shooting. I Was Too Busy But I Saw Most Of Our Planes Blazing And Burning Alongside Of Us... Again Our Bomb Bay Doors Wouldn't Come Up, So Haynes, Our Engineer, Had To Start Cranking Again. In The Process He Busted The Hose On His Oxygen Mask And Almost Passed Out From The Rarified Air... Our Whole Squadron Was Shot Down Except Two Of Us...Entire Entry
Oct. 7, 1944:We Bombed Politz Today. All Three Ships In The Lead Element Were Shot Down Over The Target. Colonel Luper, Our Group Commander Was Lost. I Think Two Men Got Out Of His Plane. We Were Hit Over Fifty Times, Holes Everywhere. Every Direction I Looked Flak Was Bursting. I Must Have Prayed Out Loud. I Could Smell The Flak Through My Oxygen Mask. I Was Sweating Even At 40 Degrees Below Zero. The Ship Flying On Our Left Wing Got A Direct Hit In The Nose. It Almost Crashed Into Us Out Of Control. One Man's Body Was Hanging Half Way Out Of What Was Left Of The Nose, Most Of His Clothes Blasted Off. In The Ball I Was Practically Looking The Bursts In The Face As They Tracked Us Along And Kept Exploding Right Under Me...
Nov. 2, 1944:Our Target For Today Was Merseburg. There Was Very Little Flak Over The Target But There Were Enemy Fighters Galore. I Was Blasting Away At The Nearest One As He Was Coming Up On Us. I Saw His Prop And Cowling Go Flying Away And Part Of His Wing Tip Go Sailing Behind Him. The Ship Behind Him, I think I damaged. Our Tail Gunner Was Also On Him. He Turned Away Smoking. Then, Like Last Time, Our Fighter Escort Was There And It Seemed Like There Were Planes Falling Everywhere. One Fortress Exploded Behind Us. A Man Was Thrown Through The Side. I Think We Lost Nine Fortresses...
Nov. 30, 1944:We Had To Crash Land In Belgium But Our Whole Crew Is Safe. Our Target Was Bohlen, On The Other Side Of Germany, Next To Leipzig. Then And There I Never Saw Such Horrible Flak In My Life. Fortresses Started Flaming, Exploding And Falling All Around Us. I Was Praying Out Loud Again. Wham! And Most Of Our No. 1 Engine Was Blasted Away. There Were Heavy Thumps In The Wings And Gas Started Leaking. One Rudder Control Was Shot Away. One Of The Oxygen Tanks Exploded. A Big Piece Of Flak Came Through The Waist. One Piece Thudded Against My Ball Turret But The Guns Saved Me. Our Radio Was Shot Away And The G. Box Burned Out. Our Flaps And Landing Gear Control Systems Were Shot Away. We Decided To Crash Land, Because We Figured We Had A Good Chance. We Came Down In A Field. The Prop On No. 1 Went Flying...
Dec. 7, 1944:I Saw In The Stars And Stripes Where A Gunner Wants To Go On Missions Because They're Exciting. He's Either A Liar Or He's Crazy. It May Sound Exciting But When You See Your Buddies Getting Killed And You Know You Might Be Next, It's A Filthy, Dirty, Bloody Job... We Just Heard A British Lancaster In Trouble Overhead About An Hour Ago. We Ran Outside In Time To See The Whole Crew Of British Airmen Bailing Out Over Our Field Here. A Few Of Them Were Hurt. The Plane Went Off Over The Horizon. We Never Did See It Crash...
Dec. 27, 1944:The Target For Today Was Gerolstein, Quite Close To Koblenz. I Can't Explain How A Guy Feels On A Bomb Run. He's Always Waiting For That One Explosion That Will Put Him Into Oblivion. As You Get Closer To The Target Your Heart Beats Faster And Faster. You Breathe Harder And Harder But There's No Air To Breathe. Even When It's 50 Below You Forget About The Cold. Your Nerves Are Strung Up To The Breaking Point. You Can Feel Every Blood Vessel In Your Body Bulging. You're So Nervous And Scared That Every Time There's A Burst Of Flak Or The Plane Jumps A Little, You Think; "This Is The End"...
Dec. 28, 1944:Our Group Didn't Fly Today. The New Crews Are Up On A Practice Mission. I Think We Helped Things Yesterday. We Went For Transportation And Communication Facilities. We Were In An Area Of Hills Where Railroads Criss-Crossed Everywhere... Major Glenn Miller Is Still Missing. The Nazi Guns Know No Rank. When they Shoot Us Down And We're Armed To The Teeth, I Can Imagine What Happened To An Unarmed Ship...
Jan 14, 1945:Today, We Destroyed The Huge Bridge Over The Rhine River In Cologne, With Thousand Pound Bombs. The Flak Was Very Accurate. You'd Hear A Tremendous "Whump" And A Concussion And Usually A Flash. Many Times You Would Hear A Loud "Clang" As A Piece Of Shrapnel Went Ripping Through The Ship. I Saw The Cathedral Of Cologne Standing Out From The Rest Of The City. It Looked Like It Was Standing Good Yet...
Feb. 3, 1945:I Finished My Last Mission Today, But It Was A Rough One, Right To The Heart Of Berlin. What A Horrible Thing To Finish Up On. I Could See Berlin Below, Smoking And Exploding From The First Groups Over The Target. There Were Two Tremendous Explosions Ahead Of Us As Two Fortresses Got Hit And Blew To Bits Right In Front Of Us. Another Got Hit And Went Down In A Steep Dive. Half The Men Bailed Out And Went Floating Down Into The Fire And Smoke. We Lost Forty Bombers...
Feb. 15, 1945:I Forgot To Mention I Saw Jimmy Stewart, The Movie Actor, Over Here A Short Time Ago. He's A C.O. And Pilot Of A Liberator. He Used To Be With The 389th. He's With The Second Division (Liberators). I Don't Think He's Taking It So Good. He's Nervous And His Hair Is Turning Gray. He Only Has In About 18 Missions And He Started Them Before I Left The States...
Feb. 21, 1945:Got Off Guard Duty A Half Hour Ago. I Had A Lonely Post Last Night. While I Was Walking My Post, I Was Thinking Of All Sorts Of Things. I've Seen Too Much Happen. It's Not Much Fun To See A Riddled Plane Come Back And See Some Poor Guy's Intestines Splattered All Over The Inside And The Rest Of The Crew Crying Like Babies. When I Have Time On My Hands, It Seems As If I Can't Get Away From The Things I've Seen...
---
John J. Briol In Cadet Class 43K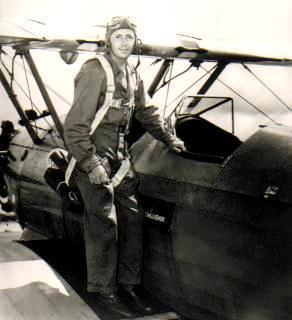 ---
Glatton Airfield, England In 1944
US Army Air Force Photo
---
B-17G (Flying Fortress) 457th Bomb Group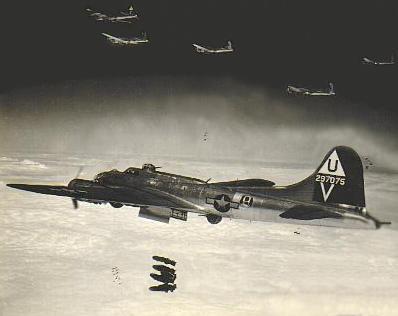 ---
"Flak" 457th Bomb Group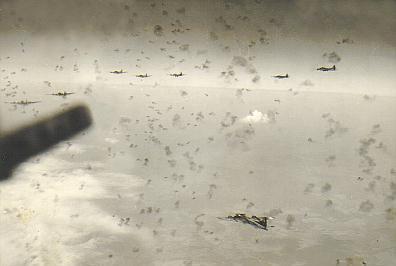 ---
Ball Turret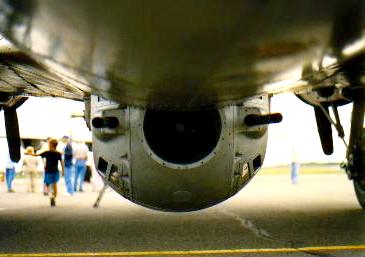 ---
John J. Briol On Mission
Photo Taken By Edward Grybos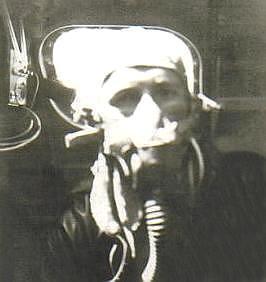 ---
Crew Of "Dead Engine Kids"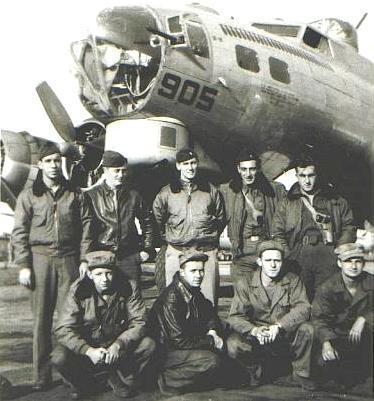 Front Row:

Harry Cornell, John Briol, John Byknish, Robert Haynes.
Back Row:

Norman Ozenberger, John Welch, Lauren Spleth, Ted Braffman, Edward Grybos.

---
Crew Member Positions
Lauren Spleth, First Pilot; John Welch, Co-Pilot (Later First Pilot); Ted Braffman, Navigator; Norman Ozenberger, Toggalier (Bomb Switch Operator) And Chin Turret Gunner; Robert Haynes, Top Turret Gunner And Engineer; Ed Grybos, Radio Operator And Top Gunner; John Briol, Ball Turret Gunner And Assistant Radio Operator; John Byknish, Waist Gunner; Karl Lambertson, Waist Gunner; Harry Cornell, Tail Gunner.
---
A Later Crew Picture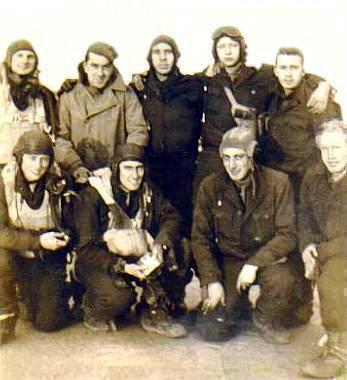 Front Row:

John Welch, Lauren Spleth, Ted Braffman, Karl Lambertson.
Back Row:

Robert Haynes, Edward Grybos, Norman Ozenberger, Harry Cornell, John Briol.

---
"Sack Time Hovel"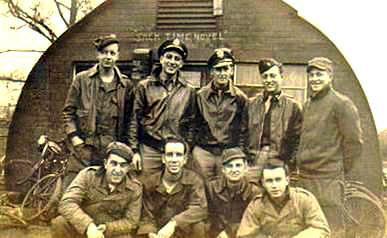 Front Row:

Edward Grybos, Norman Ozenberger, Robert Haynes, John Briol.
Back Row:

Harry Cornell, Ted Braffman, Lauren Spleth, John Welch, Karl Lambertson.

---
Ball Turret Gunner Nick Benos
Friend From The 750th Squadron, Photo Courtesy Bob Benos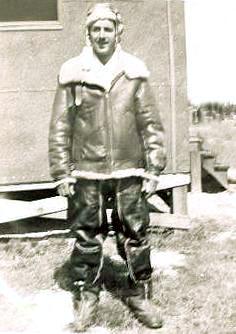 ---
B-17G "Nine 0 Nine"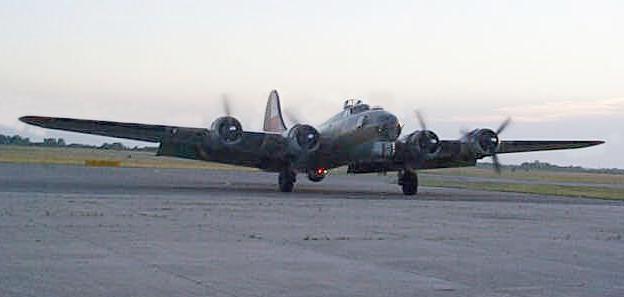 ---
Remember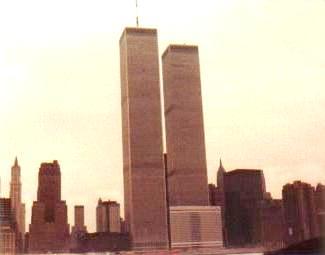 ---
Links Of Interest
B-17 Specs.
War With Iraq
Kosovo Archives
War With Terrorism
A Flying Fortress Tour
The Collings Foundation
Commemorative Air Force
Hendersons' Military History
Korean War Veteran's Story
Gulf War's Airpower Unleashed
The Vietnam War Resource Guide
Justins' Museum Of Military History
B-17G Flying Fortess "Picadilly Lilly"
Ball Turret Gunner-POW Bud Meade
The "Memphis Belle" Memorial Assoc.
Official 457th Bomb Group Association
Kilroy Was Here: Unknown War Stories

"Moonlight Serenade" By Glenn Miller
---
Send Mail To John F. Briol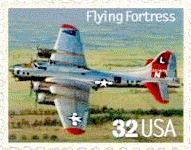 ---
Created By John F. Briol, With Microsoft ® Notepad